About Us
Novaltia is one of Spain's largest pharmaceutical wholesalers and has the best economic and financial structure in the sector.
It is Aragón's 10th largest company in terms of turnover and one of the most solvent cooperatives in the Basque Country. We work to support the current wholesale pharmaceutical solidarity model and are firmly committed to defending the Mediterranean pharmacy model, based on restricting pharmacy ownership to licensed pharmacists.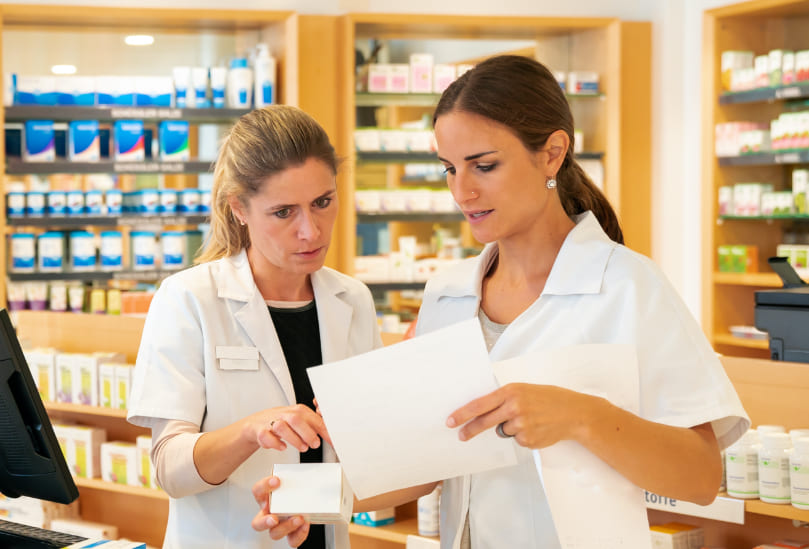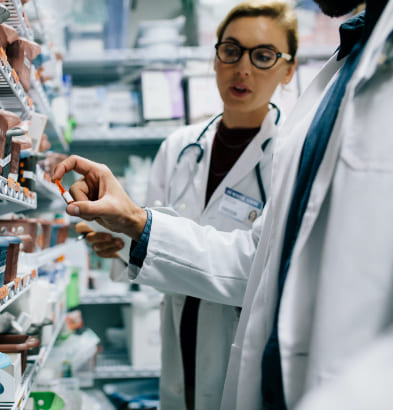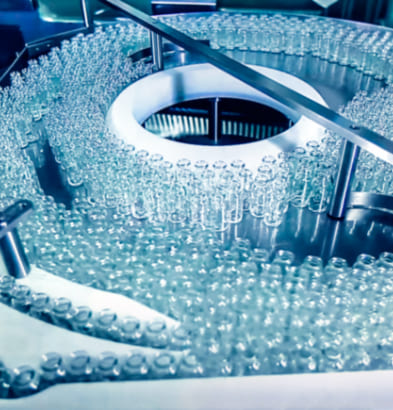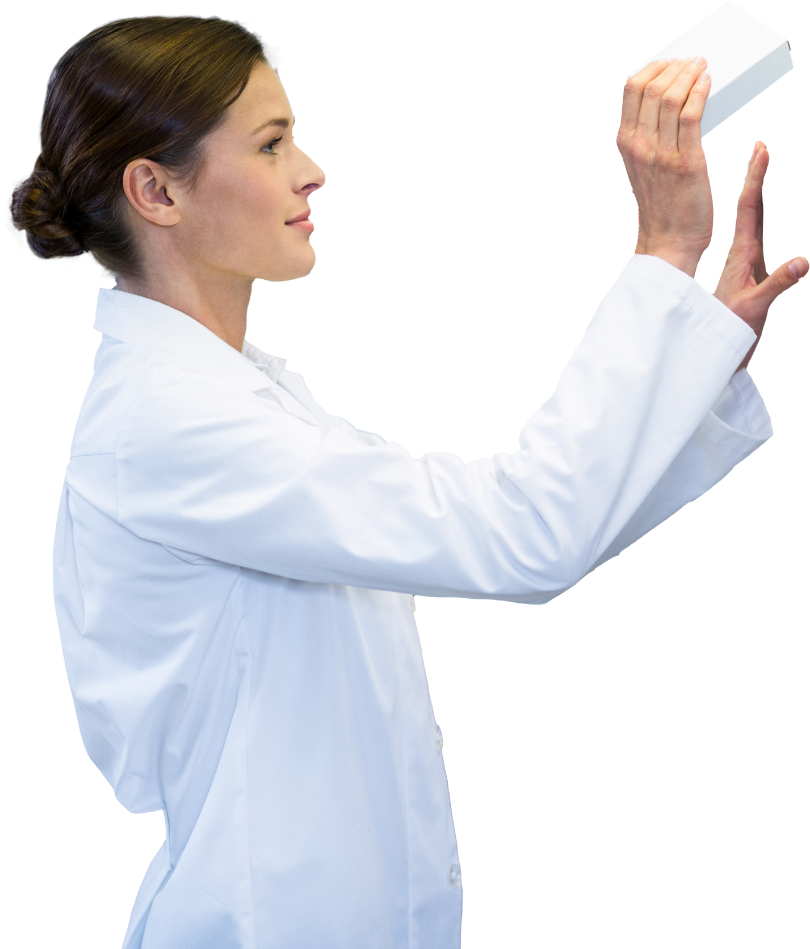 Mission, vision and values
Mision:
To protect the interests of our independent pharmacy partners and promote the maintenance of the Mediterranean pharmacy model.
Vision:
To be the leaders in our area ( Northern Spain) and promote the construction of a leading cooperative group in Spain.
To provide our pharmacies with comprehensive management tools that give them a competitive advantage.
Values:
Credibility and transparency
Quality and Service Excellence
Technology, Creativity and Innovation
Novaltia was created in July 2013 following the merger of Aragofar, the leading pharmaceutical cooperative in Aragón, and Vascofar, the Basque Country's largest pharmaceutical wholesaler. It marked a milestone in the industry being the first successful merger between pharmaceutical wholesalers in Spain.
160 trabajadores en 4 centros logísticos- Zaragoza, Zaratamo (Bilbao), Vitoria y Calatayud- atienden a más de 1.000 socios gracias a la fuerte implantación regional; más del 72% en Aragón y en torno al 30% en Bizkaia y Álava.
History of Aragofar, Aragonese Pharmaceutical Cooperative
History of Vascofar, Vascongada Pharmaceutical Cooperative
History of Aragofar
By Ana María Lagunas , President of Aragofar (1988-2007)
From my point of view there have been three stages in Aragofar clearly differentiated and coinciding, more or less, with the three social headquarters that we have had: Start in San Vicente de Paúl, expansion in Tenor Gayarre and modernization in the City of Transport.
The initial stage was complicated: Aragofar was born in 1967 as a pharmaceutical brotherhood, within a cooperative trend throughout the sector. A company with a warehouse on Calle San Vicente de Paúl in Zaragoza is then bought, in some premises subleased of less than 600 m2. The good faith of the buyers is surprised by a disastrous financial situation: thirty million pesetas in collusion bills and a difference in the net equity real of fifty-five million pesetas. The company had a market share of 8% and shared competition with four other distributors in Zaragoza (Plaza Caldeiro, Juste, Jiménez and Safa). At year 1971, after discovering this situation and before the possible disappearance of the entity, the President of Acofar Cooperativa de Crédito, Felipe Vitores intervenes.
The governing board is renewed, entering as President Antonio Loste and as Secretary Pilar Manso. In February 1972, Honorio Gómez joined as manager, who will continue in the position until his retirement in December 2007. Felipe, Antonio, Pilar and Honorio, together with a brave and determined governing board, laid the groundwork for what became Aragofar.
As of 1973, my professional career joins that of the cooperative and will not be separated until the sale of my pharmacy: third member until 1978, secretary of the Council until 1986; Comptroller until 1988 and President from 1988 to 2007.
Aragofar grew in partners and trust and, consequently, expanded its market area, which led to the acquisition of ownership of a new 5,000 m2 warehouse in Calle Tenor Gayarre in Zaragoza in 1980.
With the new structure, the expansion stage begins, taking advantage of a few years of relative stability in the sector. Starting in 1982, the Plaza, Juste and Jiménez stores closed and the cooperative sentiment of the members is growing. In 1989 the different members of the current management team begin to join. Aragofar is provided with new services, sales and profits are increased, passing them on, as always, to the partners.
In 1999 a warehouse of 18,500 m2 began to be built on a plot in the Ciudad del Transporte. In September 2000, the transfer was made to the new facilities that were inaugurated in June 2001 by the then President of the Congress of Deputies Ms. Luisa Fernanda Rudi.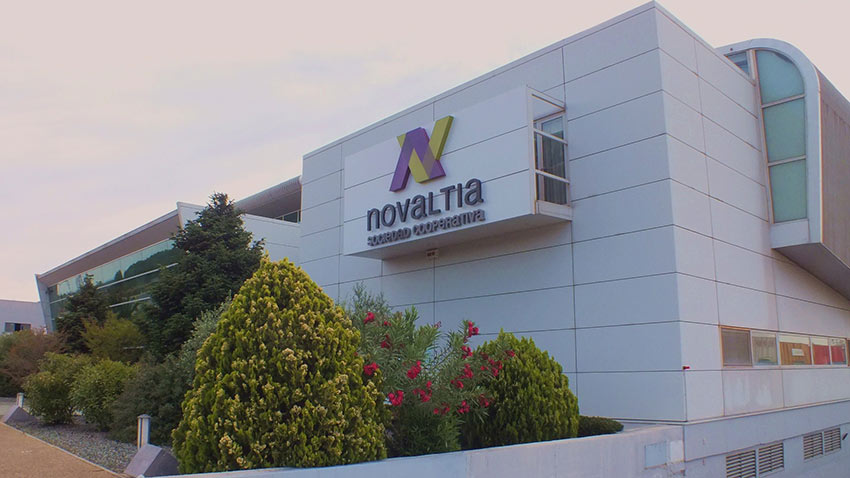 Thus began the stage of technological innovation, providing the cooperative with the latest advances in computing and robotics, essential to face the future with guarantees.
In November 2005, Aragofar received the certificate of its integrated quality system (ISO 9001) and Environment (ISO 14001) and in 2006 it was awarded the Pilot Award for logistics excellence, in the category of large companies, recognizing thus its technological leadership.
In April 2007, I transferred my Pharmacy Office and resigned as President of Aragofar. After the elections in the General Assembly, my colleague and friend Manolo Espuny succeeds me in office.
Throughout these years I have learned that the progress of a cooperative does not depend only on its leaders and employees, but on the cooperation, enthusiasm and dedication of all the co-owner partners. And I have to proudly say that I have found the best travel companions one could wish for.
Thank you all for taking the cooperative where it is today; Thank you for continuing to support her in the future and thus maintaining the current pharmacy model and thank you for allowing me to get to know the cooperative world from within.
Ana María Lagunas, President of Aragofar (1988-2007)
History of Vascofar
The history of Vascofar, collected in 1999 by the Governing Council when the cooperative turned 50, is intended for those who, more than half a century ago, knew how to see the future, wanted to improve the present and made a common grouping of their knowledge, experiences and efforts for the pharmacy offices to have in their Vascongada-Vascofar- Cooperative, a common home that would provide them with cohesion, strength, representativeness ... in short, service and effectiveness for a better defense of their individual interests in terms of solidarity and cooperativism. And to all those workers who made it possible with their dedication and effort to achieve the dream of the first pharmacists who bet on a cooperative movement that today maintains the founding principles intact.
1999. Governing Council
President Mrs. Ángela García Docio
Vice President D. F. Javier Ojanguren Madarieta
Secretary Mrs. Rosario Echeverría San José
Treasurer Mr. Luis María Domínguez Salaverría
1st Member Mr. Alvaro Sarmiento Elias
2nd Member Ms. Carmen Pilarte Pilarte
3rd Member Mr. Javier Saenz de Buruaga
4th Member Mr. Juan A. Uriarte Goiricelaya
5th Member Ms. Carmen Narvarte Borreda
6th Member Ms. M. Cruz Carrascal Berrueta
Auditor Mr. Angel Ruiz Tello
Auditor Mr. José Ignacio Peña García
Accounts Auditor Ms. M. Carmen Arrazola Arrien
Birth and history of Vascofar
The joys and satisfactions that we are experiencing at this time should not prevent us from remembering the opposite climate, reactionary in some, that surrounded the birth of our cooperative.
Drug stockists, who monopolized mediation with merely speculative criteria in the 1940s, appealed to the Supreme Court against the Administration Resolution that approved the constitution and in activity of the Pharmaceutical Cooperative of Bilbao. The Supreme Court denied them the reason.
Almost 10 more years of legal disputes, accompanied by a lot of work in ministerial offices, still had to pass for peace to be achieved, with the explicit recognition that cooperatives operated in a framework of absolute legality.
Adding to this the evidence that charitable work was carried out, without profit and, in any case, aimed at the benefit of society, it is not surprising that, unstoppably, more and more cooperatives were being created across the board. of the national territory.
In any case, and 'against all odds', in 1949 Vascofar was born thanks to the courage, to the clairvoyance of a few fellow pharmacists who interpreted the general feeling of the collective that alone and disunited they could not continue, they were not aware and much less future. With this, the 'being under the boot' of storekeepers who acted in their interest and at their whim was over.
In any case, and 'against all odds', in 1949 Vascofar was born thanks to the courage, to the clairvoyance of a few fellow pharmacists who interpreted the general feeling of the collective that alone and disunited they could not continue, they were not aware and much less future. With this, the 'being under the boot' of storekeepers who acted in their interest and at their whim was over.
Since the beginning of the 90's it was possible to notice that something was beginning to change in our cooperative world. The internal 'borders' began to collapse as a result of the penetration of other warehouses, both national and belonging to other European countries. New regulations on the dispensing and distribution of medicines, mergers of pharmaceutical laboratories ... also contributed to the peace that had been reached in the 1950s, it was replaced by 'guerrillas', concerns, insecurity…, the need to 'gather heads' to plan actions aimed at achieving survival objectives.
We actively participated in the constitution and promotion of a large national purchasing center –Edifa- which meant that we optimized purchases. Through it we were able to enter the field of OTC Generics and Prescription Generics, as a bet for the future that forced us to have a vision and decision in the medium-long term. We robotize our warehouses, the incorporation of new technologies does not stop ...
With the partners we are going to death because we have "good chemistry", which we have achieved after more than 50 years of life together. The popular saying "the experiments, with soda", could well be applied to the moment we live before the arrival of the "outsiders."
Our common history is far from over.
Expansion and growth
Heroic times those from 1949 to 1961 in which it was necessary to take advantage of what way! Those 285m2 that we rent at number 13 Calle General Concha, to receive, store, prepare orders, administer ... With the enthusiasm of the apprentices and the seriousness of the veterans. We began our journey even if it was tight and austerity!
To cite an example, to finance the payment of merchandise and general expenses - including personnel expenses - the first governing board and some founding partners had to request a personal loan of 25,000 pesetas, an important figure at that time through the Bilbao Municipal Savings Bank.
The first Governing Board
President Mr. Victoriano Miguelez Penas
Secretary Mr. Felipe Vitores Puras
Treasurer Mr. Honorato Gómez Izarduy
Member of the 1st Mrs. Jesús Eguileor Llandera
2nd Member Mr. Tiburcio Ellacuría Beascoechea
3rd Member Mr. Martín Egurrola Zuloaga
Supervisory Council
Mr. Víctor Llorente Balanzategui
Mr. José Uriarte Zuloaga
Mr. Manuel García Otero
El traslado a Particular de Costa 8-10 a finales de 1961, ampliado después al 12 y 14, supuso pasar a 'respirar' mejor ya que los casi 1500m2 que al final de 1965 ocupamos tras unos iniciales 700 m2, constituían casi un lujo puesto que nos permitía salir del agobio y la estrechez anteriores.
In Zaratamo, our current location, since January 1975 we have owned 10,000m2 built, between warehouse and offices, and in this location we have space to get around in complete comfort.
The first geographical expansion took place in 1979 when Vascofar bought an 806m2 warehouse on Monseñor Estenaga street in Vitoria, then the suburbs, today the heart of the capital of Alava.
We then start with about 40 partners, service 3 times a week for cost reasons and a 5% market share in this territory. Mr. Benito Ormazábal, a pharmacist of recognized prestige and drive, led a group of colleagues from Alava and Vascofar made his wishes for a forward-thinking cooperative warehouse come true.
Today, in 1999, when 20 years have passed, the number of partners has doubled and the initial market share has quintupled.
The second expansion took place in 1987 with the integration into Vascofar of CO.FA.SA (Colegiados Farmacéuticos Alaveses SA).
That same year and the following year, 1988, Vascofar expanded and diversified its presence in the market for pharmaceutical marketing products while favoring the management of its partners in an important aspect of this.
We refer firstly to the integration of the management of Alorva -Almacén Ortopédico Vascongado- in the functional operations and management of Vascofar. In addition to a real improvement in its global management, the number of references went from 400 to 8,000 of articles of parapharmacy and orthopedics available to the member.
In 1989, another step was taken in improving the service with the centralization of returns in FEDECO, a former company dedicated to the commercialization of drugstore products, whose directive function was carried out by Vascofar.
The associated cooperatives in Alorva and, therefore, their partners, benefited from a more agile and more economically positive management in such a thorny field as that of returns.
And from then until now, the cooperative has worked and works thinking about how to progress in efficiency while maintaining the inalienable cooperative identity.
The current appearance of the facilities is the best tribute to those who with effort, of one kind or another, managed to resurrect what was lifeless for a few days.
From the slide rule to robotics, through computing
The operations carried out in the first location of the cooperative in the 1950s - the premises of Calle General Concha - were very primitive, as is not difficult to imagine.
The preparation of orders was carried out by circulating the warehouse workers 'basket on arm' through the shelves, filling in what the order forms, handwritten, reflected. Of course the administration was based on the calculation of the delivery notes by means of crank machines, capable of performing the 4 operations "at the speed of a turtle", and was reflected in documents through typewriters with keyboard and printing slow and deficient, the problem exacerbated by the quality of the copies generated by the rubbings of the time.
At the beginning of the 60s, already located on Calle Particular Costa, Vascofar entered the world of new technologies by acquiring Italian-made machines from the Gispert house called 'Tetractis' that until 1970 made it possible to carry Get your administrative functions done faster and more efficiently.
Meanwhile, in the warehouse, the preparation of orders continued as in the early days of the cooperative.
Between the years 1970 and 1987 is when there are changes in the key of improvement with the incorporation of information technology in daily operations.
Starting in 1975, at the Zaratamo facilities, the placing of orders in the warehouse was aided by technology-based methods, such as the conveyor belt, which decreased and facilitated the movement of goods.
In 1998 Vascofar joined the programming and operations developed by CCS (Sabadell Calculation Center) for 8 pharmaceutical cooperatives with a unified system for adapting programs to the euro and the change of the millennium.
Slowly the process of change began in terms of order formalization, gradually imposing the use of terminals.
And from then until today, the incorporation of robots has allowed the warehouse to be automated by up to 70%, enhancing the speed and efficiency in order preparation, transferring the commitment of a cooperative with a vocation for the future.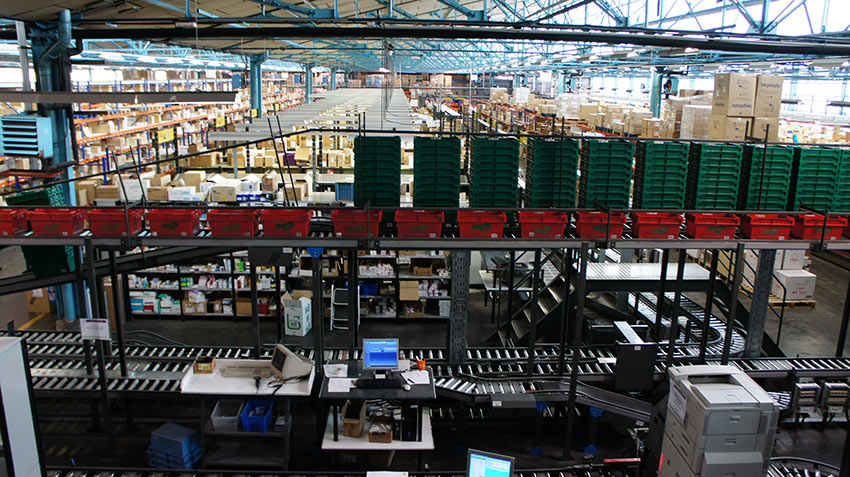 Of course, always with the pharmaceutical partner at the center of the activity, with the cooperative spirit with which Vascofar was born in 1949.
1983 floods
On August 26, 1983, more than a hundred Basque towns were declared a catastrophic zone, after incessant rains flooded the whole of EuskalHerria and floods swept away everything. And when we say everything is that it was everything.
It is an episode in the history of the cooperative that was about to achieve what not even the attacks against our constitution could achieve: to erase Vascofar from the face of the earth, swallowed up by waters and mud.
The qualifiers were exhausted to reflect the consequences of such floods. Raising these ruins, after clearing and cleaning hundreds of tons of mud and stones, was the task of titans. A chapter in our history that has a list immense of praises and thanks. Physical assistance from employees and other institutions - both partners and some banking entities - whose generosity was vital to this situation ... A physical effort accompanied and reinforced by a spirit of the directing and governing bloc that transmitted strength, tenacity, a decision that it was necessary to be reborn 'against all odds' to continue the work cooperative started 34 years earlier.
There is the testimony. The experience we lived strengthened and prepared us to face new problems, of a different nature, but, in any case, hard and complicated.
We fulfill an essential health mission, but tremendously complex, by delivering to the associated pharmacies practically all the existing references, more than 30,000, from 600 national and multinational laboratories. And we do it from the more efficiently ensuring the rapid delivery of all drugs to pharmacies, even the most remote ones, in the shortest time and at the lowest cost.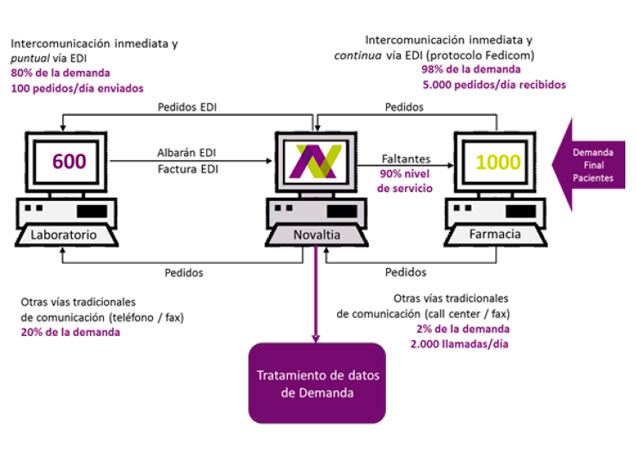 An automatic system is in charge of managing orders, guaranteeing the perfect condition and proper conservation of all products. Up to five different types of robots participate in an agile and optimized procedure supervised by pharmacists, from its origin in the laboratory to its dispensing in the pharmacy.
An innovative logistics system that makes us a benchmark in the sector both nationally and internationally.
The work is completed with a fleet of transport vehicles that daily travel 14,000 km on 70 delivery routes.
All this makes us a model company in the sector, both for our advanced technology and for the organization.
Our warehouses
Our warehouses We have four logistics which have a combined area of more than 26,000 m2 between Zaragoza, Bilbao, Vitoria and Calatayud.
An innovative logistics system makes us a reference in the sector nationally and internationally.
650 pharmacies
40.000 references
60.000 lines/day
120.000 uds/day
18.500 m2
90% automated

350 pharmacies
6.000 references
25.000 lines/day
55.000 uds/day
9.000 m2
98% automated

70 pharmacies
7.000 references
4.000 lines/day
8.000 uds/day
1.000 m2
15% automated

35 pharmacies
6.000 references
3.000 lines/day
7.000 uds/day
500 m2
100% manual

350 pharmacies
16.000 references
25.000 lines/day
55.000 uds/day
9.000 m2
98% automated

Team
Novaltia places a workforce of more than 200 employees at the disposal of pharmacists, led by a management team with extensive experience in the industry. We put all our efforts and enthusiasm into improving our service to make it more efficient with every passing day.
A multidisciplinary team, comprised of pharmacists, chemists, engineers, economists, journalists, IT experts and lawyers, works to develop and implement new services using R&D in all corporate management processes.
D. Miguel Ángel Artal Lerín
PRESIDENT
Dª. María Gabriela Zazu Lafuente
VICEPRESIDENT
Dª. María Tena Ledesma
SECRETARY
Dª. Ángela Angoitia García
TREASURER
D. José E. Giménez García
VOCAL 1ª
D. Carlos Lacadena Azpeitia
VOCAL 2ª
Dª. Amaya Blanco Arce
VOCAL 3ª
Dª. M.ª Carmen Velilla Hurtado
VOCAL 4ª
Dª. Ana M. Gasco Lagunas
VOCAL 5ª
Dª. Miren Zamakola Alberdi
VOCAL 6ª
Dª. Isabel Clavería Cintora
VOCAL 7ª
Dª. Marta Monteagudo Arrazola
VOCAL 8ª
Dª. Elena Aguilar Teixeira
INTERVENTOR
Dª. Idoia Jorge Moral
INTERVENTOR
Dª. Leticia Santamaría Ugalde
INTERVENTOR
All our warehouses comply with international quality management standard UNE-EN ISO 9001:2015 and environmental management standard UNE-EN ISO 14001:2015, with certification being awarded by the Spanish Certification Agency AENOR.
We are one of the few Spanish companies to hold both certifications, which makes us an industry benchmark for process management and environmental performance.
These certifications are proof of our commitment to quality, continuous improvement and the sustainable development of our activity. As part of a Corporate Social Responsibility policy they benefit our team, our partners and society in general.

Integrated System Policy
Quality Management System Certificate
Environmental Management System Certificate
Occupational Health and Safety Management System Certification
Integrated Quality and Environmental Management System Certificate
Novaltia in figures
314
Millions of euros of sales
40.000
Active references in stock
156
Daily distribution routes
1000
Pharmaceutical
partners
Zaragoza
Lezama-Zamudio
Zaratamo
Vitoria
Calatayud

35.000
M 2
of logistics
centers
2 to 5
Orders per
day and client